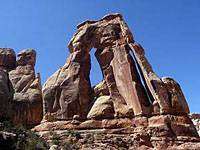 The high desert plateaus of southeast Utah are carved into a maze of intricate canyons, mesas, buttes, fins, arches and spires. Two national parks, two national forest, a huge recreation area and millions of acres of BLM land protect this amazing landscape. Hiking informatioin is available for Arches National Park, Canyonlands National Park, Moab, Grand Gulch, Bears Ears, Mexican Hat and Bluff.
View Trails in National Parks, Monuments & BLM areas:
Arches NP Canyonlands NP Grand Gulch Bears Ears
View Trails in:
SE Utah Moab Monticello Mexican Hat Bluff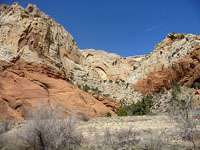 The 1.9 million acre Grand Staircase-Escalante National Monument, along with Capitol Reef National Park, Bryce National Parks, a variety of BLM lands and State Parks, protect large swaths of south central Utah. Numerous hiking trails penetrate this amazing landscape allowing hikers to wander through the stone forests formed by the pink and white hoodoos at Bryce National Park, to spend days roaming the vast and rugged plateaus and multi-hued cliffs of the Grand Staircase and Canyons of the Escalante and to explore the hidden treasures of the Waterpocket Fold and Cathedral Valley in Capitol Reef National Park.
View Trails in National Parks, Monuments & BLM areas:
SC Utah Escalante/Grand Staircase Bryce National Park Capitol Reef National Park